Welcome to Super Hero Craft Week!
My son has recently become interested in super heroes, and I know with some of your boys, it is more of an obsession! I hope this week you will find some fun ideas and crafts to keep your super hero loving kids happy!
Ande's little buddy had a super hero birthday party this past weekend, and it was great! It was the perfect start to this super hero craft week! She had set up some fun stations with different super hero activities and the boys loved it. They looked so cute decked out in their super hero capes!
If I had brought my camera to the party, I would have taken pictures of everything and documented all of the great ideas. Unfortunately, all I had was my phone, so one good group shot of the kids was all I got. So instead, I thought it would be fun to gather some super hero party ideas together that I found around the web.
Similar to the party Ande went to, this party had stations that the kids rotated through. I especially liked the decorate-your-own capes, and obstacle course stations!
This vintage pop art party is just fun to look at! I love the colors, the skyline food table, the color block jello, and the weight lifting gmae!
I had to plug yesterday's guest poster, Telisa, just one more time. Remember the super hero cupcake topper printables I mentioned yesterday? They are adorable!
Let's not forget the girls out there who love super heroes too! I really really love the photo's taken of this little girl all decked out in her super girl outfit! I also love the vintage-feel of her party. There are cute garlands on the table decor, a fun bingo game, and the invitation is my favorite part!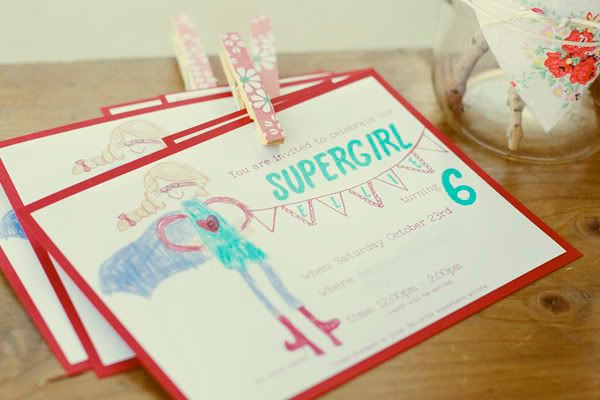 Have you hosted a super hero party lately? I'd love to hear about it!
Check back tomorrow for another guest post by Ilene from,
Come On, Ilene
! She will share a great tutorial for a reversible super hero cape! And, definitely go check out her blog and see if you see anything familiar!? Great minds think alike :)